Thomas Staite lived in one of these cottages in what is now Station Road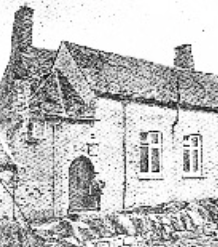 The Methodist chapel in School Road which opened in 1899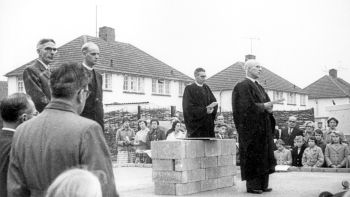 Rev Harry Holroyd leads the dedication at the stone laying ceremony of the present building on 25 October 1958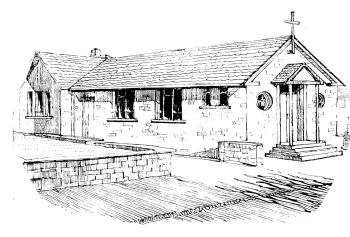 The building as opened on 25 April 1959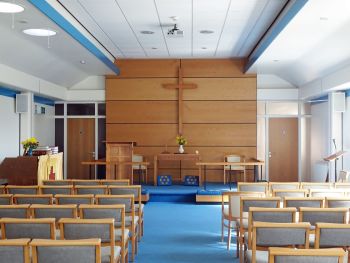 Our present worship area

Methodists in Bishop's Cleeve
Methodism in the area goes all the way back to the founder of Methodism, John Wesley, who recorded in his diary that on 8 May 1744 he preached at Gotherington on Repent ye and believe the Gospel! The first clear evidence for Methodism in Bishop's Cleeve itself comes from 1834 when a licence was granted for the schoolmaster's house to be used as a place of worship. Unfortunately we don't know where the congregation worshipped
until 1841 when another licence was issued for Methodist worship at the home of Thomas Staite. It was not until 1899 that a purpose-built chapel in the Cheltenham Circuit was opened on the corner of Station Road and School Road. Upkeep proved too much
for the small congregation and the building was sold to the WI in 1934. They in turn sold it to become part of the Roman Catholic church, St John Fisher Hall, in 1964 until its closure in 2000, when the congregation moved back into St Michael's church after 450 years. Houses were then built on the site.
When the nature of Bishop's Cleeve began to change with the arrival of Smith's Industries, Methodists started worshipping again in the village. In 1951 they arranged with the WI to use their former chapel for afternoon Sunday School and evening services. By 1958 our present site was acquired and in April 1959 the existing church was opened.
At that time there were around 125 children in the Sunday School and this was one reason why in 1964 the hall was extended. In 1990 the present entrance and kitchen were added to improve the facilities. In 2008 the hall was converted to the worship area and the building took on its present form. Today the premises are well-suited for the continuing worship of God and to serve the varied needs of the wider community. We are also committed to the work and witness of Churches Together in Bishop's Cleeve and surrounding villages.
Our ministers
1951-52 Noel Warman 1976-85 John James
1952-54 David Hewitt 1985-92 Terry Spencer
1954-58 Bernard Walkland 1992-95 Ruth Carter
1958-64 Alan Merritt 1995-2005 Phil Challis
1964-68 Albert Jewell 2005-08 Elaine Rawlings
1968-70 Joyce Plumb 2008-13 Steve Ward
1970-71 Henry Dennis 2013-19 James Tebbutt
1971-76 George Kenny 2019- Rachel Leather
In July James leaves us to take up his new post as Chair of the Cumbria District and we will welcome Rachel Leather from Worcester as our new minister. We thank James for his contributions to the work of the Methodist Church in the Gloucestershire Circuit and especially here in Bishop's Cleeve. We give our best wishes to him, Nicola and Eleanor in their new venture.